What is yaourt
Yaourt is a utility for Arch Linux that provides an easy way to install programs from AUR (Arch User Repository). Pacman cannot search the AUR for programs so if you want to install a program from AUR you have to do it manually. I have already describe how to install an AUR program manually at a previous article .
Yaourt searches AUR for programs, downloads them, install the missing dependencies and then compiles and installs them. Because yaourt uses pacman it can also install packages from the repositories or upgrade them.
How to install yaourt with pacman
You can install yaourt with pacman but first you have to add the proper repository to pacman.conf. So, you must edit the file /etc/pacman.conf. To do this you can use nano, vim or gedit:
sudo nano /etc/pacman.conf or gksudo gedit /etc/pacman.conf
Then you have to add to the end of the pacman.conf the archlinuxfr repository:
[archlinuxfr]
Server = http://repo.archlinux.fr/$arch

After that, save and refresh the packages lists with the command:
sudo pacman -Syy
Now you can install yaourt with pacman:
sudo pacman -S yaourt
How to use yaourt
If you want to search and install a program from AUR you can use yaourt:
yaourt program
Note
Remember not to use the sudo command with yaourt. Yaourt will ask you for the root password when its ready to install a program.
For example if you want to install qbittorrent (like the previous article):
yaourt qbittorrent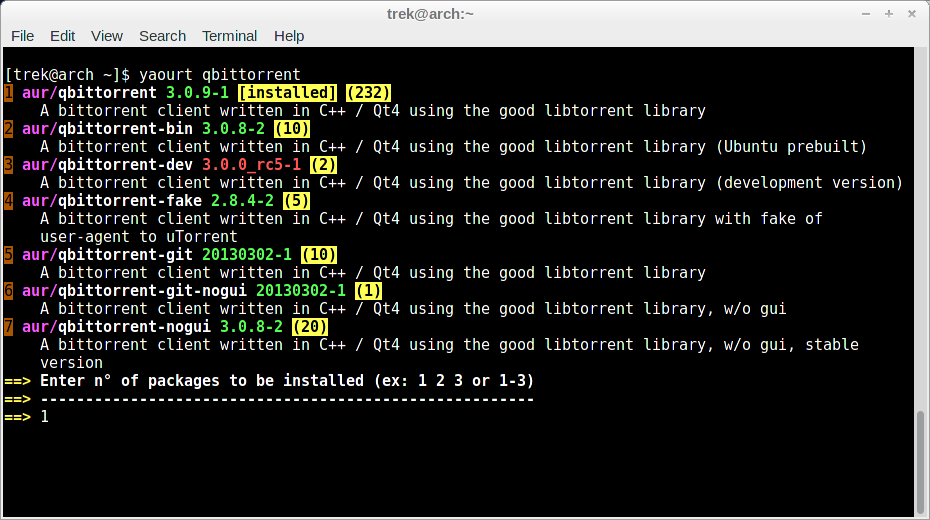 Yaourt will return a list of programs with the word qbittorrent in their name or in their description. To install one (or more) enter their number (for qbittorrent we enter the number 1). Yaourt prompt us to see the PKGBUILD file for information about the installation. We choose if we want to see it (I usally don't).
You can use yaourt to upgrade the installed packages because it describes more efficient than pacman the upgrades:
yaourt -Syu
Yaourt's update list is more efficient than Pacman's.
If you want to upgrade the programs you have installed from AUR (like qbittorrent) you have to use the command:
yaourt -Syua